No matter if your moving local or long distance, Liberty Bell Moving & storage can get you there.
With 11 locations across the New England we dispatch our movers from local offices near you, to keep travel costs low.
Back in 2007 Liberty Bell Moving & Storage started out with one office and one truck. We focused on hiring local movers  to provide local moves in Maine.
Our motto from day one was to provide the best local movers in Maine. We worked hard for the first years in business to perfect the local moves, and slowly started providing the same quality long distance  moving services.
No matter  if your moving to the next town or the next state, you can count on Liberty Bell Moving & Storage to coordinate and execute your move perfectly.
We have highly trained move coordinators, dispatchers and warehouse managers who train all our movers. You can expect the best moving experience from start to finish with Liberty Bell Moving & Storage.
Below is a list of local offices you can call to to coordinate your local and or long distance moving services, storage, packing or moving labor. Or you call (800) 891-8409 or email [email protected]
Liberty Bell Moving & Storage is known as the best moving company for being able to quickly dispatch local movers.
MAINE MOVERS
Portland, ME
 – 
207-890-7475
Bangor, ME
– 
(207) 618-5052
Brunswick, ME
– 
(207) 615-7290
Auburn, ME
– 
(207) 221-0387
Belfast, ME
– 
(207) 221-0353
Saco, ME
– 
(207) 615-7367
Windham, ME
– 
(207) 615-7369
Augusta, ME
– 
(207) 615-7368
North Berwick, ME
– 
(207) 221-2524
NEW HAMPSHIRE MOVERS
Portsmouth, NH
  –
603-499-5955
Conway, NH
  –
(207) 741-9157
Bedford, NH
  –
(603) 288-0558
Liberty Bell Moving and Storage is the premier moving service for your local move. We service all of Maine and New Hampshire with highly trained and professional movers, ready to ensure a hassle free move. Our services guarantee a seemless moving experience! We offer a complete moving service including; Packing, Helpers, Storage and More!
Please feel free to Call or E-mail us directly to speak with a Branch Manager.
Office: (800) 891-8409
Email: [email protected]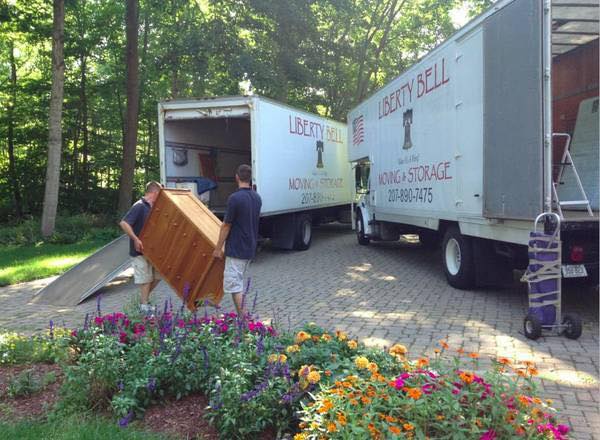 Liberty Bell Moving & Storage specializes in the following moving services: